Nehru Trophy Boat Race
Nehru Trophy Boat Race
is a popular Vallam Kali held in the Punnamada Lake near Alappuzha, Kerala, India. Vallam Kali, literally means boat
play/game, but can be translated to
boat race in English. The most popular
event of the race is the competition of Chundan Vallams (Snake Boats). Hence the race is also known as Snake Boat Race in English. Other types boats which participate in various events of
the race are Churulan Vallam,
Iruttukuthy Vallam, Odi Vallam, Veppu
Vallam (Vaipu Vallam), Vadakkanody
Vallam and Kochu Vallam.
he race conducted on the second
Saturday of August every year is a
major tourist attraction.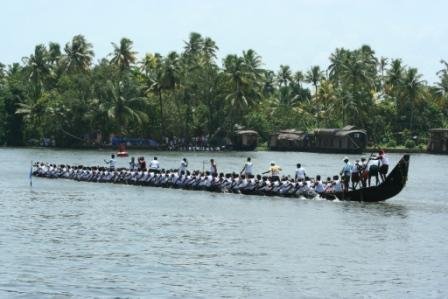 How this boat race got the name
Jawaharlal Nehru, the first prime minister of Independent India visited
Kerala in 1952. He was given a roaring
reception by the people of Alleppey, escorted by the huge snake-boats.
Having gone through the tremendous
excitement of sailing in a snake-boat
Jawaharlal Nehru donated a rolling
trophy to be awarded to the winner of
the race. The trophy is a replica of a snake-boat in silver, placed on wooden
abacus on which the following words
are inscribed.
To the winner of the boat-race which
is a unique feature of community life
in Travancore-Cochin.
The 100–120 feet long canoes made of
a forest wood locally called "Aanjili
thadi" carrying 90- 110 rowers which
moves like a snake through the
channels (hence the name), is an eye
catching sight for any tourist. The Chundan Vallam also has the record as
"the biggest water vessel used for
sports purpose" .