Amarnath Yatra+++Best PHOTOS in d last 48 hours
Presenting some of the best PHOTOGRAPHS from around the globe in the last 48 hours.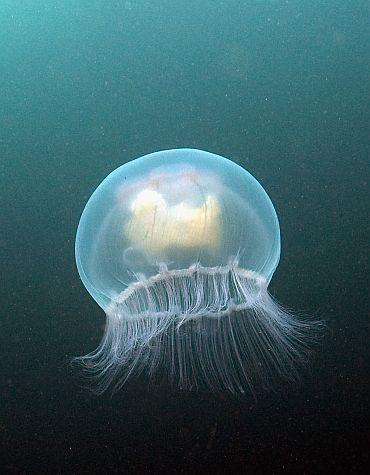 A Moon jellyfish swims beneath the waters of Inner Farne at the Farne Islands, England. The Farne Islands, which are run by the National Trust, are situated two to three miles off the Northumberland coastline. The archipeligo of 16-28 separate islands (depending on the tide) make the summer home to approximately 100,000 pairs of breeding seabirds including around 36,000 Puffins, 32,000 Guillemots and 2,000 pairs of Arctic Terns.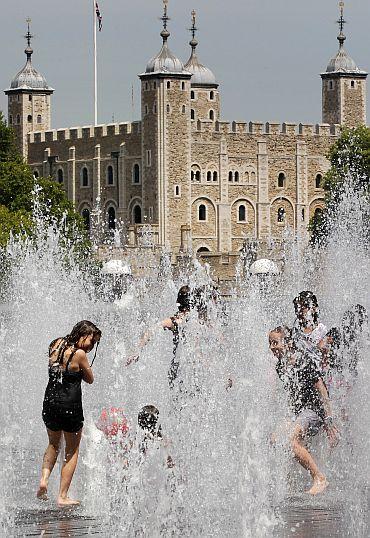 Children play in a fountain in sight of The Tower of London on June 27 in London, England. The United Kingdom is experiencing temperatures as high at 32 centigrade in some areas.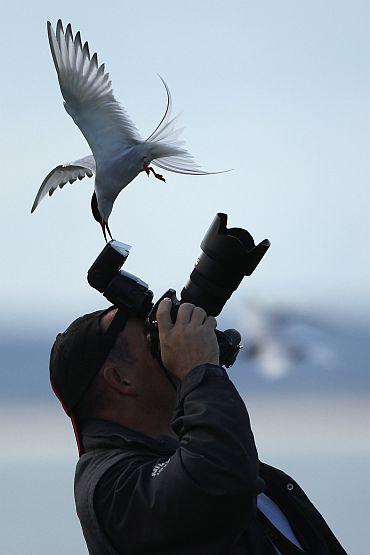 An Arctic Tern pecks a mans camera as he walks through nesting seabirds on Inner Farne, England. Visitors to the Farne Islands are pre-warned and advised to wear hats to protect themselves from the Terns who will dive down and attack anyone they perceive as a threat to their nest. The Farne Islands, which are run by the National Trust, are situated two to three miles off the Northumberland coastline.The species of birds which nest in internationally important numbers include Shag, Sandwich Tern and Arctic Tern. The coastline around The Farnes are also the breeding ground to one of Europe's largest Grey Seal colonies with around 4,000 adults giving birth to 1500 pups every year.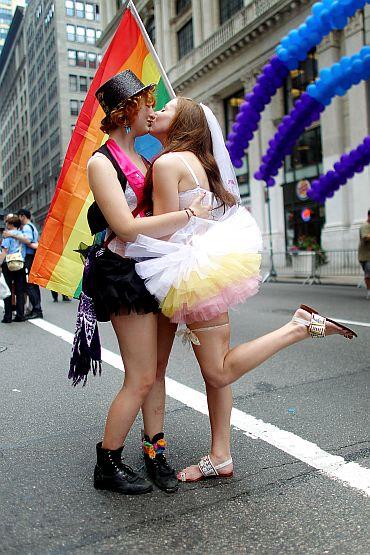 Christina Careaga (R) and Hannah Thielmann kiss as they celebrate during the Gay Pride parade in New York City. The parade took on extra significance following last Friday night's legalisation of same-sex marriage in New York, often regarded as the birthplace of the gay rights movement.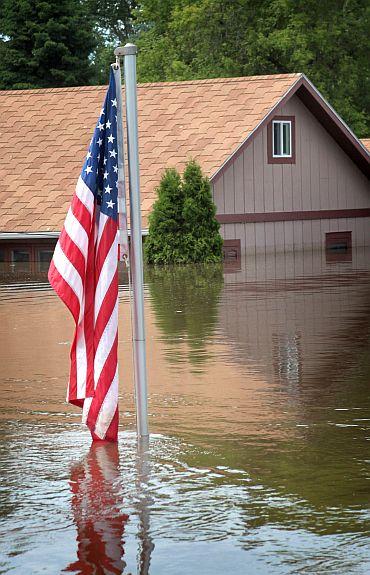 A flag flies in the yard of a flooded home in Burlington, North Dakota. The Souris River, which runs through Burlington and nearby Minot, crested early this morning after flooding more than 4,000 homes in the two communities.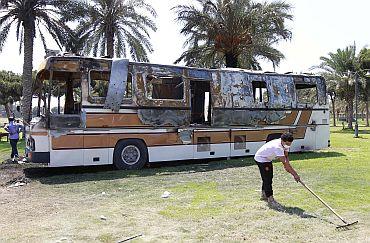 A Libyan worker cleans near a destroyed private bus of Libyan leader Muammar Gaddafi at an area in Bab al- Aziziyah compound in Tripoli.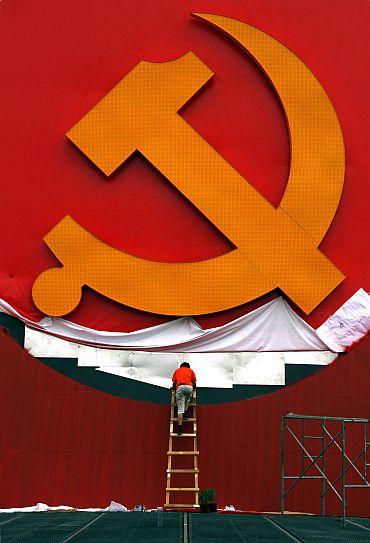 A worker climbs down a ladder as he paints a giant communist emblem as part of a display on Beijing's Tiananmen Square. The display is part of the upcoming celebrations to mark the 90th anniversary of China's Communist Party on July 1.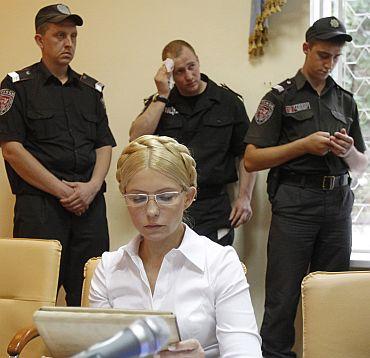 Former Ukrainian Prime Minister Yulia Tymoshenko attends a pre- trial hearing at a city court in Kiev. Tymoshenko clashed angrily with the judge at a pre-trial hearing on Saturday, denouncing the court action as political manoeuvring aimed at wiping out the opposition in Ukraine.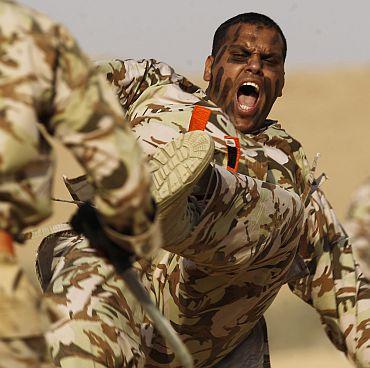 Graduating soldiers from the Saudi special forces demonstrate their unarmed combat skills at a base near Riyadh.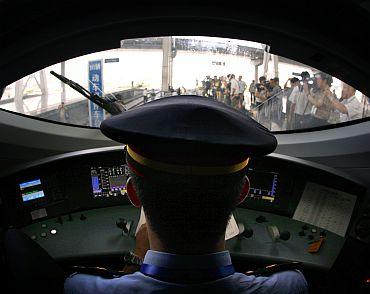 A train driver prepares to depart the Beijing-South railway station for Shanghai in a new high-speed train as part of an official trip for members of the media. The landmark Beijing-Shanghai line, which costs 220.9 billion yuan and spans 1,318-km linking the capital and financial hub, is set to launch by the end of June.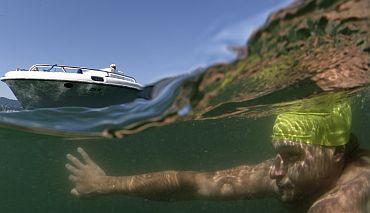 A swimmer wearing a yellow security cap makes his way past a police boat during the launch of the 2011 security measures for swimmers on lake Zurich.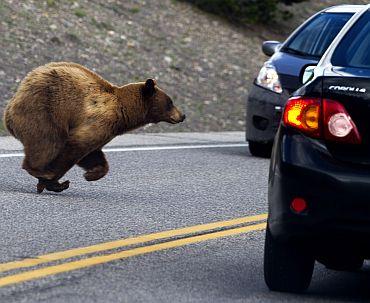 A cinnamon black bear, a subspecies of the American black bear, runs between cars near Madison in Yellowstone National Park, Wyoming.
Amarnath Yatra begins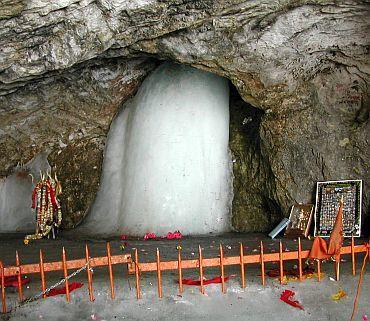 The annual Amarnath yatra began on Tuesday amid tight security as the first batch of 2,096 devotees left Jammu base camp for pilgrimage to the 13,500 meter-high cave shrine in South Kashmir Himalayas. With Central Reserve Police Force keeping strict vigil, a cavalcade of 73 vehicles carrying the pilgrims was flagged off by Minister for Tourism and Culture Nawang Rigzin Jora from Amarnath Basecamp at Bagwatinagar Yatri Niwas in Jammu around 5:00 am. The devotees offered prayers and chanted Lord Shiva slogans like Bum Bum Bolay, Chalo Amarnath, Chalo Ek Saath at the event.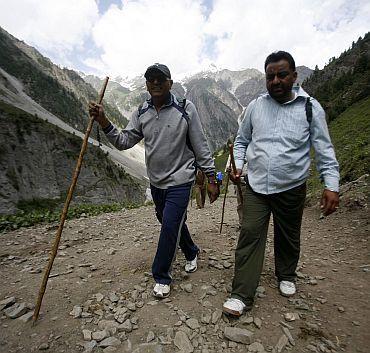 About 1,369 males, 421 females, 110 children and 196 Sadhus left in 49 buses and 24 Light Motor Vehicles (LMVs) for Pahalgam and Baltal base camps in Kashmir valley and their onward journey to the shrine. ''The yatra has begun from here today. The first batch has been flagged off for the cave shrine. All arrangements have been put in place for the smooth conduct of the yatra,'' Jora told media persons. There is no fear to the yatra and it is going on smoothly, he said after flagging off the event attended by Divisional Commissioner, Jammu, Pawan Kotwal and IGP Jammu Dilbagh Singh.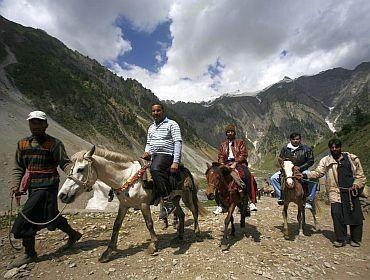 Adequate security arrangements have been made in Jammu and along the route to the Amarnath cave shrine for the safety and security of the pilgrims, Singh said. With paramilitary forces deployed along the highway, the yatra has crossed Udhampur. The pilgrims are scheduled to have a darshan of the holy ice 'ligum' of Lord Shiva at Amarnath cave on Wednesday.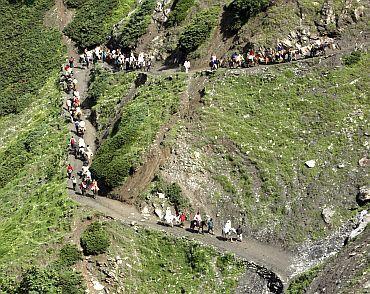 As many as 2.30 lakh pilgrims have been registered for the pilgrimage at various centers and online counters across the country. As part of stringent security measures, Road Opening Parties (ROPS), Quick Reaction Teams (QRTS) and Mobile Rescue Teams (MRTS) have been positioned at several places to deal with any exigencies. The Jammu and Kashmir Police has also launched a reception- cum-yatri assistance center in Jammu to facilitate smooth and easy boarding and lodging of the pilgrims.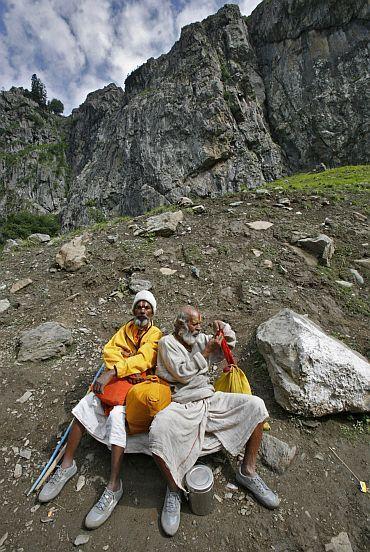 ''We have launched reception- cum-yatri assistance center to facilitate smooth and easy boarding and lodging for the pilgrims, besides knowledge of roads and routes,'' Deputy Inspector General (DIG) of Police, Jammu- Samba-Kathua range, Farooq Khan said. This centre would take care of the devotees lodging at base camp yatri niwas, he said adding that it would also distribute booklets, pamphlets, maps and other material to the pilgrims. The Amarnath yatra is expected to conclude on August 13, on the auspicious occasion of Raksha Bandhan.