She Still Continues to Surf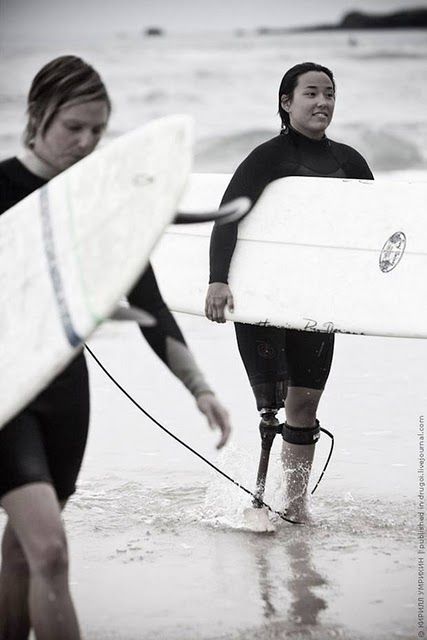 Her name is Danielle Bert, her 25 years. She lives in San Diego (California) and, like all young people of her generation, tries to spend time actively and cheerfully. She loves to travel, enjoys extreme sports, go to concerts, communicating with friends, but all the fun give it a little harder than others - in Daniel is not the right leg. More after the break..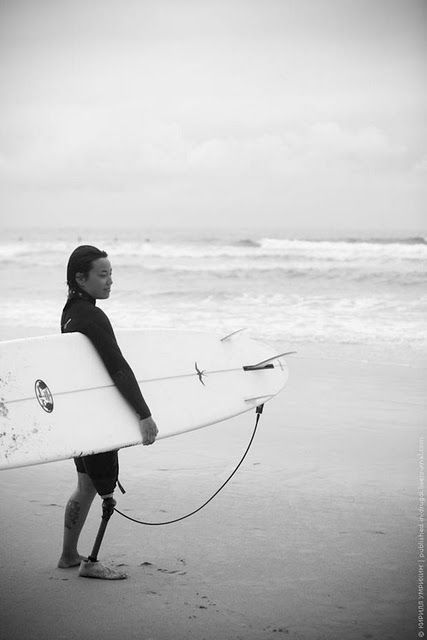 This is difficult to write and speak aloud, because the Russian language, for whatever reason is not prepared for a quiet discussion of such problems. All words relating to amputation, prosthetics and other disabilities, sound rude and unnatural, we have taken on such issues remain silent. American brain a bit different - Daniel calmly tells what happened to her and how she copes with this problem. Moreover, she even wants to talk about it to show people that even with such a serious injury a person can be completely full and happy life.

She continues to surf Tell us why you have dentures?
About six years ago, I got in a motorcycle accident and lost a leg.

How long do you go for a surf?
About two years.

That is, you start to skate now without legs. It was difficult?
Yes, the main problem was to invent a prosthesis that he allowed to ride. My prosthesis was first artificial knee, but now it was not necessary. We spent a lot of time in water, to understand how to be arranged artificial leg, and, finally, we made it!

How do you generally had the idea to start riding?
I grew up in New Jersey on the ocean, and I simply love the wave. After the accident I could not even go into the water, and I was very upset - I wanted a normal prosthesis to at least begin to swim.

But why did you start riding so late, after all surfers ride from early childhood?
I did not have enough money to buy myself a serious board and really ride the waves, so I settled for bodibordom. Yes, before the accident, I skied on bodiborde.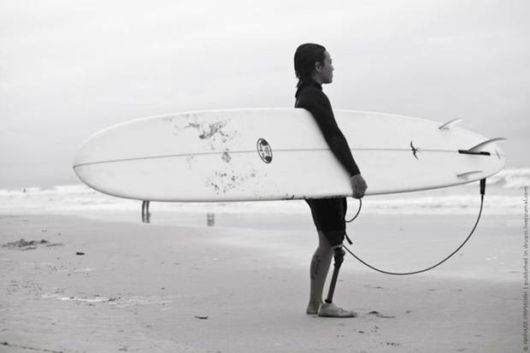 How much do you know people who ride on the surf with a prosthetic leg?
I have no knees, and I know a surfer with the same injury - he lives in Brazil and very good rolls.

What other sports do you do?
In addition to surfing, I still ride on a skateboard, snowboarding, doing swimming - I generally enjoyed sports.

Do you feel that you've been given with great difficulty than others?
Yes, but this should just get used to. For example, when you ride the surf, you have to do a certain number of movements to jump on board. I have to make more steps, because I do not feel his leg, but it's just a matter of training.

How do people react when they see that you ride a surf?
I think my efforts and my skating inspire people to something new, give them to understand that they are capable of more. In particular, people devoid of feet or hands, realize that they are not so limited, as they think