Various parts of the Country continue to reel under intense heat wave following the mercury shooting beyond the normal temperatures. Usually, till the onset of the monsoon, the months of May-June are the hottest in the country with the temperatures hovering in the range of 40 to 45 degrees Celsius in several regions. However, this season, temperatures have touched a high of 48.5 (in Gujarat) Let's take a look at some glimpses of the torrid Indian summer.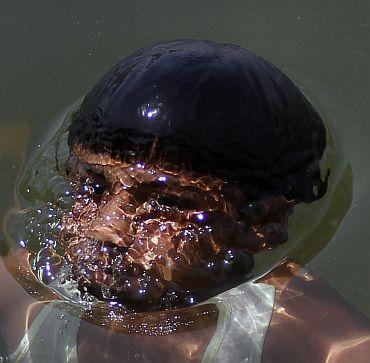 A boy cools off
on a hot
summer day
in the waters
of Dal Lake in
Srinagar.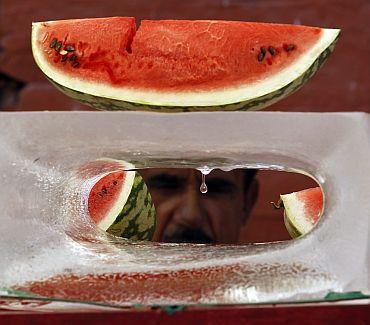 A Kashmiri vendor selling watermelons is seen through a hole in an ice block during a hot summer day in Srinagar.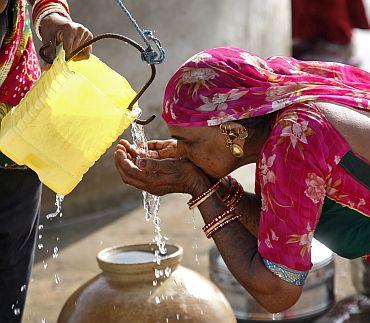 A woman drinks water as she waits for her turn to draw water from a well near the banks of the dried-up Dharji lake at Dharji village, west of Ahmedabad. The village has six wells but only one of them has water. In the afternoon women from the village must wait for two to three hours for the water level to rise before they are able to draw water. Also, it is a two to three kilometres' walk to the well.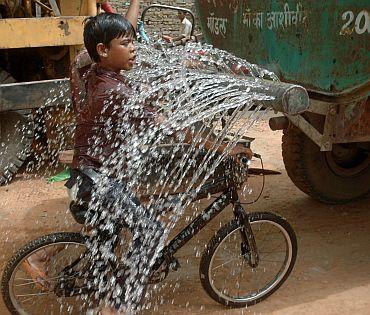 A boy rides a bicycle behind a water tanker to cool himself at a road construction site on a hot day in Agra.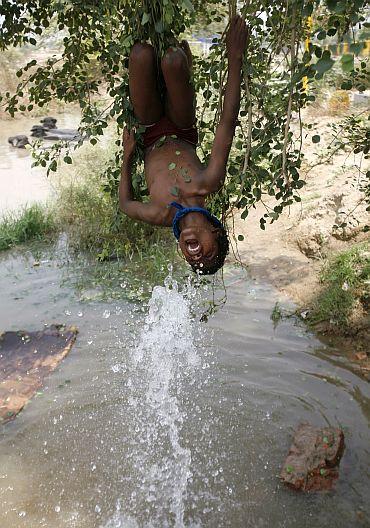 A boy, suspended from a tree, drinks water from a burst pipeline as he plays on a hot day at Noida in Uttar Pradesh.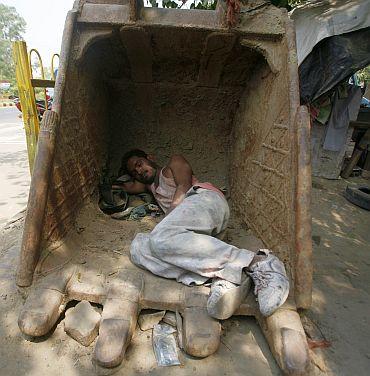 A labourer sleeps inside an excavator bucket on a hot day at Noida in Uttar Pradesh.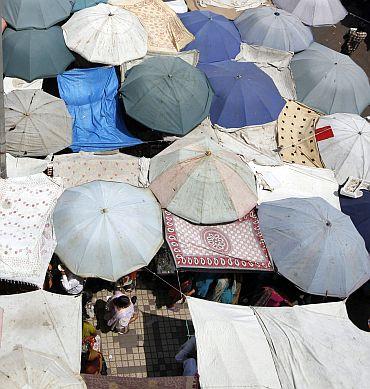 A roadside market is covered with umbrellas and cloth for shade, as people shop on a hot summer day in Ahmedabad.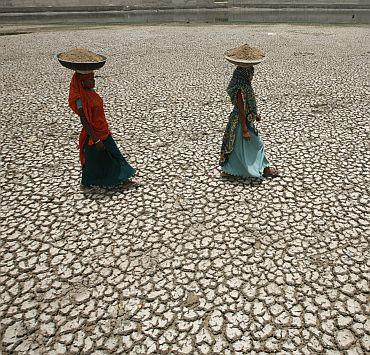 Women labourers carry mud to a construction site on the dried banks of river Sabarmati on a hot day in Ahmedabad.